Cell Analysis System / Image Cytometry
Cell Analysis Systems by Countstar
Rigel S3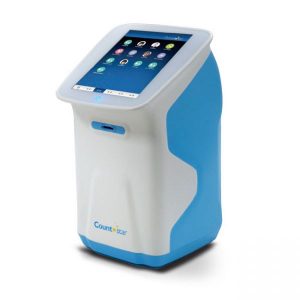 Universal Solution for Cell Counting, Cell Viability Discrimination, and T/NK Cell Mediated Cytotoxicity Assays
The Countstar® Rigel Cell Analysis System combines three fluorescence channels with a bright field digital microscope, image cytometer, and cell counter into a single benchtop instrument. This application-driven, compact, and automated cell imaging system provides an all-in-one solution for cell counting, cell viability and T/NK cell mediated cytotoxicity using Countstar® BioApps. The Countstar® Rigel provides a standardized, GMP – compliant solution for the cell quality control. Main applications include: CAR-T Cells Cytotoxicity studies, Bright Field/Trypan Blue cell count/viability and concentration measurements, Cell apoptosis investigations, and Transfection efficiency studies.
Main Features:
Image based, alternative design to complex flow cytometry
Fast analysis of various parameters in parallel
Flexible, modifiable platform with a minimized footprint
Cell density and viability monitoring
Castor X1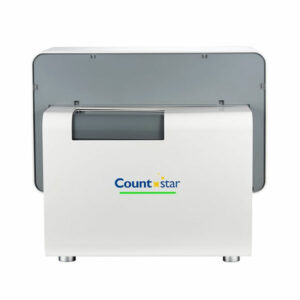 High-throughput Image Cell Analyzer
The Countstar Castor X1 is the ideal platform for a wide array of high-throughput cell-based experiments, including monoclonal identification and cell transfection analysis.
The X1 advanced optics combined with AI-based image recognition algorithms provide accurate image processing of thousands of cells simultaneously. Its intuitive HMI and embedded software allows a rapid and complete assessment of large data sets and provides high quality image resolution for confident results.
Main Features:
Advanced optical technology — including a cryo-cooled 16MP CMOS sensor, 4.0x NA high-class objective and a laser-based focus system — ensures sharp image acquisition in any situation.
Dual fluorescence channels (ex485/30nm – em535/45nm (green); ex540/25nm (red)– em620/20nm) dramatically expand application scope than bright field only platforms.
Compatibility with common 6-384 well plates
Software meets FDA 21 CFR Part 11 requirements
Ability to integrate with various automation systems
Mira HT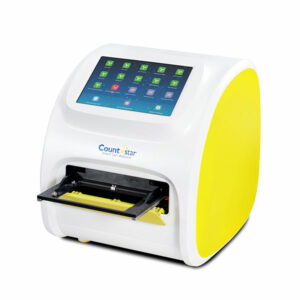 High-throughput Cell Analyzer
The Countstar Mira HT is a dual mode Brightfield or Fluorescence Analyzer with added capabilities for high-throughput sampling in a compact footprint.
This instrument offers great versatility with a range of assays including AO/PI viability and GFP/RFP Transfection detection.
Main Features:
Multi-well plate compatible
High-throughput detection
Dual Fluorescence: Acridine Orange & Propidium used to differentiate viable vs non-viable cells
Autofocus technology allows detecting cells in the 3 – 180 um
cGMP Compliant
Description
Countstar Cell Analysis System / Image Cytometry Literature
Contact Us
ProAnalytics
333 US Highway 46 West
Suite 201
Fairfield, NJ 07004
ProAnalytics Boston
100 Cummings Center
Suite 434D
Beverly, MA 01915
Phone: (973) 241-1314
Fax: (862) 772-0445
Email: info@pro-analytics.net
Additional Product Selections
Related products